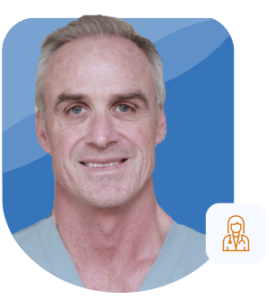 Dr. Stewart is a fellow of the Royal College of Physicians and Surgeons of Canada. He has Canadian College of Family Physicians certification in Family Medicine. He is a graduate of the Queen's University Faculty of Medicine and The University of Toronto Surgical Residency.
Dr. Stewart is a General Surgeon with 25 years of clinical experience in the treatment of venous disorders. He has worked as a staff General Surgeon with Lakeridge Health Corporation since 2002. He has perfected the procedure of EVLA (endovenous laser ablation) and is one of very few surgeons in Canada employing the technique of "microphlebectomy" in the treatment of varicose veins.
Dr. Stewart is the Medical Director of The Vein and Laser Centre, a state of the Art Varicose and Spider Vein Treatment Clinic in Durham and York Regions.
Dr. M. Stewart's family practice office can be reached by calling 905-985-2895 extension 5412.  The Vein and Laser Centre can be reached at 905-985-5405.

Our Philosophy:
At The Vein and Laser Centre, we take pride in a careful, individualized approach to vein care. Each patient comes with a unique set of venous issues and the care must be tailored to them. We utilize only the safest and most regulated technology in the delivery of our care. Consultations are free of charge with no commitment to book.
Treatments:
Sclerotherapy involves the injection of either a therapeutic liquid or a foam into small spider and blue (reticular) veins to cause them to disappear. The treatment is performed in our clinic with a very small needle without the need for anesthetic.
Endo Venous Laser Treatment is a laser procedure that permanently corrects the varicose or bulging vein issue in the legs. It is minimally invasive and the procedure takes less than an hour. It is performed with local anesthetic. It is safe and effective with no scarring. You can return to normal activity with little or no discomfort.
Microphlebectomy involves the removal of small bulging (varicose) veins with a micro puncture technique. It is done under local anesthetic giving an excellent, no scar, result.
Dr. Martin Stewart's family practice office is currently booking limited in-person visits online at this time. There may be additional time slots available by calling to office.
Use this link to book an appointment for things such as:
Regular Appointment/New Issue
(including:Counselling/Education/Advice)
Follow-up/Chronic Issue
Diabetes Checkup
Form or Sick note
Medication Renewal
To book appointments for the following reasons, please call the office, 905-985-2895 ext. 5412
Adult Checkup (including Physicals and Wellness Checks) – Ages 18+
Drivers Medical Exam (and Form if applicable)
Adolescent Checkup (ages 12-18)
Infant or Child Checkup (ages 12 and under)
Pregnancy Checkup (under 28 weeks)
Please Note:
Online appointments may not reflect all appointments available. If you are unclear of how/when to book or need more appointment flexibility, please contact the office directly @ 905-985-2895
Online appointments are only available with your own family physician. However, if your doctor is unavailable, our Urgent Care Same-Day clinic is the preferred back up.
This link is for non urgent appointments. Please call reception if you have an urgent request @ 905-985-2895
A fee may apply for missed or cancelled appointments without 24 business hours notice.
Please call our 24 hour cancellation line at 905-985-2895 extension 6224 to cancel your appointment.
If you feel your symptoms are a medical emergency that need to be dealt with right away then proceed to the emergency room. Examples might include; new chest pain, difficulty breathing, or broken limb.